Since 1989 our motto is CALLIGRAPHY WITHOUT BORDERS

Main pages




Inksticks

MO in chinese, SUMI in japanese
Inkstick must be rubbed slowly on the flat of the stone with a few drops of water. Add a little water from time to time to increase quantity. The process takes time (10 à 15') but all masters say that allows to he good state of mind to come.
NB : Always dry inkstick tip after use so that it doesn't crack.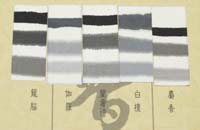 Incense ink
Made for professional Japanese calligraphers, this collection of inksticks is produced after the best oils or pine branches, adding expensive incense extracts so rubbing the ink becomes a still higher delight: "ryunou" borneol, "kyara" aloe, "ranjatai" orchid, "byakudan" white sandal, "jako" musk.








Received recently:
Visit our pages :