Since 1989 our motto is CALLIGRAPHY WITHOUT BORDERS

Main pages




CHINESE AND JAPANESE CALLIGRAPHY, SUMI-E


Mainly brushes in this section, sorted by their kind of hair as each animal gives a different effect. All are good for writing and drawing, the Far-East way.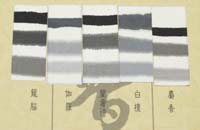 Mediums from China and Japan are all made from natural products such as carbon (soot) and animal glue or gelatin. Being used with absorbent papers they penetrate it and dry inside their fibers. Therefore they are permanent without any risk to spoil brushes. Inks are also used for traditional painting (sumi-e) and colours follow the same principles as they all are from mineral or vegetal origin.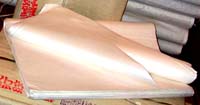 China, Japan and the largest portion of Asia could be called a Living Paper Empire. Handmade, sheet after sheet, by entire families of specialized workers, Oriental paper needs only natural fiber and a sort of root juice as raw material ("Rice paper" is a stupid term and should be avoided). All are different from place to place and suitable for a precise use: calligraphy, painting, printing, deluxe packaging and any creative handicraft. Our customers generally order some sheets as samples and adore trying them all before deciding which one they prefer and will buy often.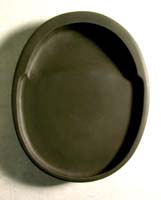 A rich choice of wonderful objects surround writing and painting gestures. Some are absolutely necessary, as an inkstone or a paperweight. Many prove very helpful: brush holders, seals, water droppers, and so on. It's always a pleasure to purchase and use them. Unfortunately we have seen their choice shrinking every year.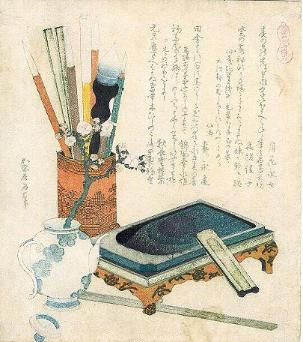 Your four Treasures
An inkstick must be rubbed gently on a special inkstone to produce good and odorant ink. Then the precious brush takes a little ink and brings it onto the delicate sheet of paper.

For centuries these four tools have worked together and provide us with strong calligrapohy or subtle painting, as shown here by Hokusai.


Received recently:
Visit our pages :